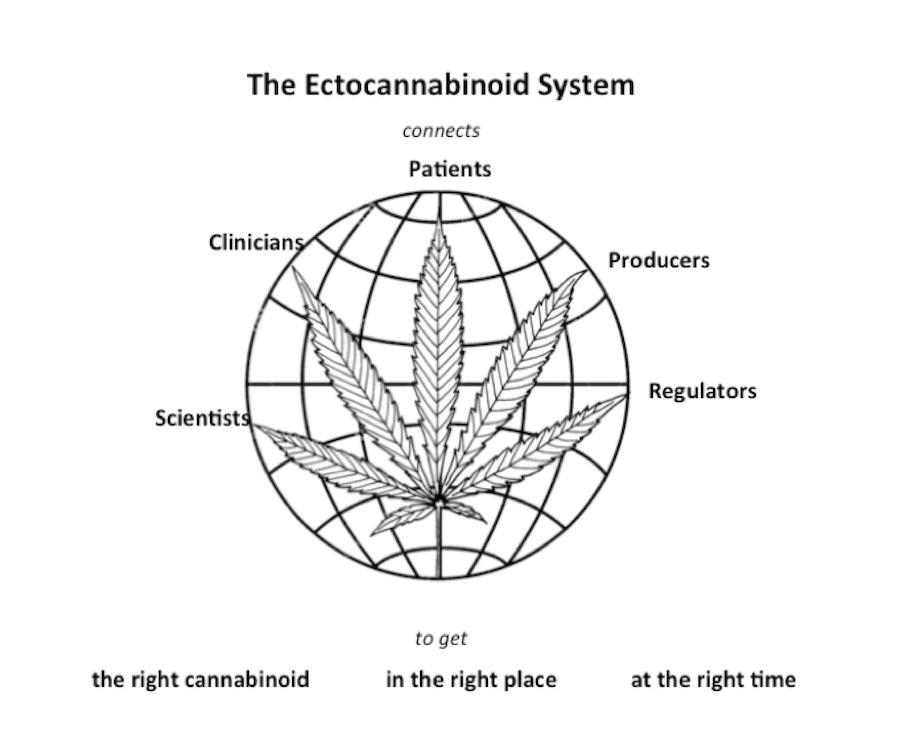 The Ectocannabinoid System
Connecting patients, clinicians, scientists, regulators and producers to get the right cannabinoid in the right place at the right time.
Background- the Endocannabinoid System
The therapeutic use of cannabinoids has grown exponentially in the last decade. This is because of the recent discovery of the Endocannabinoid System. In short, the Endocannabinoid System evolved about 300 million years ago with the advent of multicellular life to ensure that the cells in our bodies 'know' when to divide, how much energy to use, to discriminate fellow body cells from alien objects and to allow efficient neural communication. As such, the Endocannabinoid System normally functions to prevent us from developing cancer, metabolic diseases such as obesity or diabetes, (auto-)immune diseases and a whole range of brain diseases such as epilepsy, depression or schizophrenia. All these diseases can therefore be seen as deficiencies of the Endocannabinoid System. By pure coincidence, cannabinoids produced by cannabis plants interact with our Endocannabinoid System and can be used to restore or support it. This is the key to the therapeutic potential of cannabinoids.
Therapeutic v recreational paradox
Cannabis is prohibited in most of the world because it can be psychoactive and make you feel 'high' or 'stoned'. THC is the main psychoactive ingredient of cannabis and the reason why cannabis is used recreationally and why it is prohibited. However, THC also has tremendous therapeutic power ranging from preventing nausea to actually killing cancer cells.
So far, at least 31 other plant cannabinoids have been described that interact with the Endocannabinoid System. These cannabinoids serve, at least in part, to reduce the psychoactive effect of THC, thus reducing the recreational aspect of cannabis and increasing its therapeutic potential. In addition, these 'minor' cannabinoids have therapeutic potential of their own.
Unfortunately, these cannabinoids and their effects are almost completely un-researched; due to prohibition the only selection criterion for cannabis was its recreational value. Therefore, cannabis was bred for high THC content. Thus, paradoxically, the prohibition of cannabis has only increased its recreational value at the expense of its therapeutic value!
Problems
Apart from the paradoxical effect of cannabis prohibition on its therapeutic potential, there are several other problems that need to be tackled in order to correctly use cannabinoids for therapeutic purposes:
Legality; although prohibition has done nothing to prevent recreational consumption of cannabis, it has almost completely blocked scientific research and product development. The scarce product development that does occur is completely monopolized preventing the spread of knowledge

Knowledge; as a result there is a shocking lack of knowledge about the Endocanabinoid System and the therapeutic potential of plant cannabinoids within the scientific and medical professions

Regulation; illegality has also prevented the creation of industrial production standards, self-regulation and certification

Availability; as a result there is a dramatic shortage of pure and certified cannabinoids for research and therapeutic purposes

Biosimilars/synthetic cannabinoids; in order to protect their monopoly and enable patenting, the pharmaceutical industry is focusing on the use of biosimilars, in this case synthetic cannabinoids or other synthetic interventions of the Endocannabinoid System. Contrary to natural cannabinoids, these biosimilars are not safe and have caused fatalities in both recreational users and patients
The Ectocannabinoid System
To overcome these problems, we have founded the Ectocannabinoid System. By analogy to the Endocannabinoid System, the Ectocannabinoid System should function to get the right cannabinoid to the right place, in the right time. The Ectocannabinoid system aims to:
Our agenda
Prepare a manifesto for world-wide access to safe therapeutic cannabinoids

Present our manifesto to

Create a register of

Patients and their needs

Clinicians and their specialty

Scientists and their research

Cannabinoid producers and their product range/certification

Regulators willing to accommodate research, production and use of therapeutic cannabinoids

Organize and integrate scientific research

Organize and integrate clinical trials